Saturn Series LED Downlight
Saturn Series LED Downlight
Product Features:
*Patented appearance design: Renew the traditional downlight shape in a modern way.
*Patented utility model technology: Unique optical design ensures uniform output light and increases the brightness by 30%.
*Simpler structure satisfying automated assembly and production. Allow an easier SKD solution.
*Body: High thermal conductivity plastic material.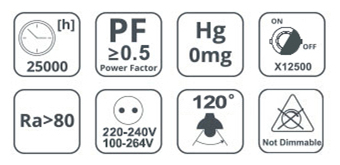 Story:
According to the latest survey of consumer habit, we found that many users still prefer the classic downlight shape of a light source inside the reflector. Guided by this requirement, WELLMAX engineers wanted to integrate them together with the expertise of our bulb technology.
After hundreds of design iterations and experiments, this new downlight with a Saturn-like structure was born. With backlit technology, it is 30% brighter than other downlights on the market. And, the semi-arc shaped cover expands the light-emitting surface area of Saturn, making the output light evenly. Besides, increasing diffuse reflection through WELLMAX patented optical design allows Saturn to be softer than others without losing light, creating an eye comfort lighting environment for users.
Like Saturn, the only planet in the solar system adorned with beautiful rings, this integrated downlight with classic bulb structure is unique. As the fusion of art and technology, it provides a diverse option for the high-end downlight market.
Specification:
Item

number

Voltage

Watts

Luminous




Flux

P.F.

CCT

CRI

Lifetime

Dimension

Hole size

Dimmable

(V)

(W)

(lm)

(K)

(hrs)

Φ*L(mm)

(mm)

L-DL-0600-

3W

100-264V

220-240V

3W

240lm

0.5

3000K

4000K

6500K

≥80

25000

Φ95*36

Φ70-80

no

L-DL-0600-

6W

100-264V

220-240V

6W

480lm

0.5

3000K

4000K

6500K

≥80

25000

Φ130*42

Φ100-110

no

L-DL-0600-

9W

100-264V

220-240V

9W

720lm

0.5

3000K

4000K

6500K

≥80

25000

Φ160*45

Φ125-135

no

L-DL-0600-

12W

100-264V

220-240V

12W

960lm

0.5

3000K

4000K

6500K

≥80

25000

Φ180*48

Φ140-160

no

L-DL-0600-

18W

100-264V

220-240V

18W

1440lm

0.9

3000K

4000K

6500K

≥80

25000

Φ225*55

Φ195-210

no